Aluminium – von der Alufolie zur Visitenkarte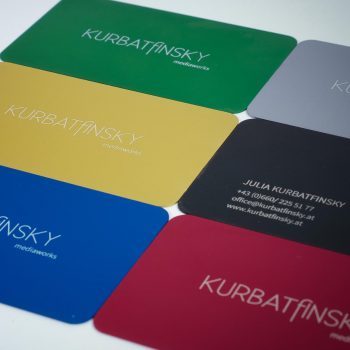 Business cards made of aluminum are extremely durable, of high quality and offer an appealing visual contrast. Aluminum is also characterized by its resilience and yet predominant elegance – ideal conditions for the production of extraordinary business cards.
Aluminum – a real all-rounder
Aluminum is probably the best known of the non-ferrous light metals. It has a dull, silvery-white appearance and is the third most abundant element in the earth's shell after oxygen and silicon. It is known as soft metal because it can be processed into very thin foils by rolling it out.
The aluminum foil in the kitchen, the protective foil for yoghurt cups or beverage cans are probably the best-known products made of aluminum. The recycling of aluminum reaches excellent rates of around 40% worldwide.
Aluminum was discovered in the early 19th century, and industrial mass production only started a century later. Starting from the mineral bauxite, aluminum oxide is extracted in aluminum smelters. Then aluminum is obtained in the electrolysis process. The melting temperature is 660 ° C, significantly lower than that of copper (1084 ° C), cast iron (1147 ° C) or iron (1538 ° C). The thermal conductivity is relatively high, which is why aluminum is used for heat exchangers in vehicles.
Anodizing, an electrochemical process, protects aluminum from scratches and corrosion. A protective layer is created by electrolytic oxidation. Aluminum is then more resistant to wear. This protective layer is basically white, but can be colored in many different colors.
When laser engraving aluminum, the color of the anodized layer is decolorized and the underlying light, white color is released. This creates a high-contrast, detailed, white engraved image. The surface is not damaged and the laser engraving or marking is permanent without neglecting the function of the protective anodized layer.
We can also provide you with special colors for business cards made of aluminum, as we cooperate with a local partner and can therefore produce any color. This makes economic sense from a quantity of 500 pieces, but can of course also be carried out for smaller quantities. For further information please contact us . [/ Vc_column_text] [/ vc_column] [/ vc_row] [/ vc_column] [/ vc_row]